Triggered emails for furniture online-shop HOFF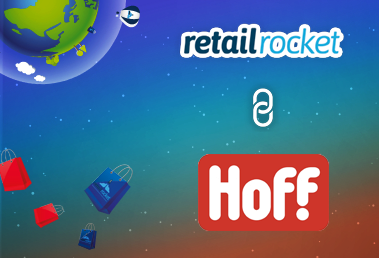 Purchase descision time in furniture segment is rather long — from 5 up to 11 days from the first website visit till order validation. That's why it is really important to "capture" future customer's attention and lead them towards the purchase, otherwise they may end up buying on another website.
Email retargeting (trigger-based emails) can solve this problem using a set of effective automated email campaigns with personalized content, that are sent in real time based on each visitors' behavior on the website.
Hoff online marketing team (one of the biggest furniture&household omni-channel retailer) and Retail Rocket specialists (multichannel personalization platform) launched a project in triggered emails.
Triggered Emails Scenarios
In the beginning we used the following triggered emails campaigns:
"Viewed products retargeting (abandoned visit/browse)" — if a visitor didn't add anything to cart and left your website, in a short time he will get a reminder of products that he or she viewed. That's very useful, because they don't have to search for those products next time they visits your website.
"Abandoned cart" — definitely one of the world's most popular triggers! If your customer added something to cart and didn't make a purchase, he or she will get a reminder of the abandoned cart.
"Post-transaction emails" — when a visitor made a purchase, they receive a confirmation email with related products recommendations based on customer's previous purchases.
"Next best buy offer" — the forecast of the next most probable items to be purchased based on the customer behavior . This campaign showned the highest conversion rate for Hoff project — almost 7%.
Follow-up emails. If there's no reaction to the trigger-based email, Retail Rocket will send a follow-up email that may include a discount coupon, personal product recommendations or a special offer.
General scheme of triggered emails scenarios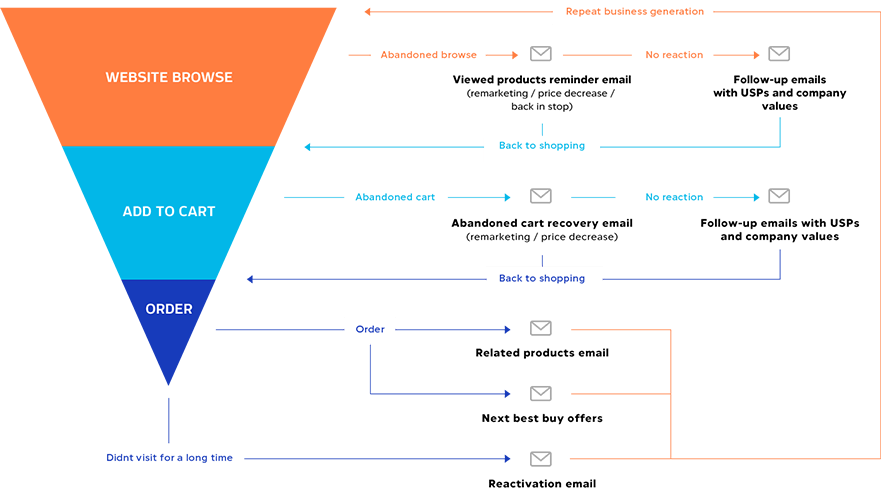 Why Do You Need Follow-UP Emails Sequence?
Follow-up emails sequences increase the efficiency of automated email campaigns as each email is pushing a potential customer towards the purchase with different methods.
For example, Hoff used a 3 emails abandoned cart sequence. The first email was a simple reminder aiming at people who were simply interrupted at the checkout. It had a conversion rate of 8%, the second email contained company USPs and values to work with the people who are still in doubts and don't have enough trust for the brand. Second email conversion rate — 4.5%. The third email had a special offer (it's really important to delay those to save margin), it works for those whos last argument is the price. It's conversion rate was — 6%.

| Abandoned cart recovery sequence | Emails sent (share in sequence) | Conversion rate | Order (share in sequence) |
| --- | --- | --- | --- |
| First email | 69.5% | 8% | 88.4% |
| Second email | 25.2% | 4.5% | 9.4% |
| Third email (reminder) | 5.3% | 6% | 2.2% |
Other campaigns (abandoned browse, next best buy offer, etc.) in this project had similar numbers. Automated trigger-based email campaigns generated 12% of all orders of Hoff website.
Email Content Personalization
Trigger-based emails have a wide range of personalization options:
The emails can contain information on products / brands / categories (and other products features) that a user interacted with.
Letters can contain personalized product recommendations.
Each letter element can be personalized according to user properties, which can build a successful communication.
These benefits were used in Hoff for personalization purposes. For example, Hoff has developed a chain of brick and mortar stores across the country, and we used the data of user's location to personalize the all campaigns. All emails also had personalized recommendations of similar and related products, which led to overall efficiency increase.
Example Of The Abandoned Browse Email: