Sanitairwinkel.nl: over 15% revenue growth through product recommendations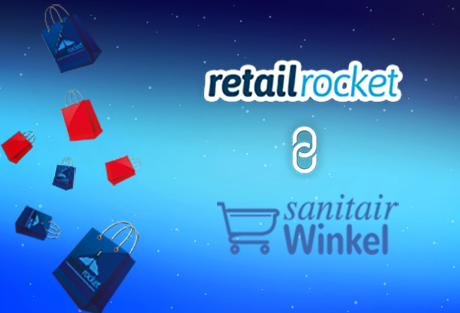 Sanitairwinkel is the online market leader in the bathroom and sanitary sector in the Netherlands, and among the top 70 largest e-commerce players in the country. Its online success and growth is the result of exceptional customer service and continuous website optimization.
Website personalization is one of the most efficient ways to optimize your website and achieve sustainable growth. Sanitairwinkel.nl certainly knew that adding customized product recommendations to their online shop would help to reach the next level. Retail Rocket's platform helped to grow cost-effectively without any time-consuming and labor-intensive implementation period.
In this case, we show how Retail Rocket product recommendations on Sanitairwinkel.nl led to a considerable growth of the store's conversion rate, average order value, and sales.
Optimizing user's shopping experience
Through website optimization online shops aim to improve their users' shopping experience. Retail Rocket has multiple innovative product recommendation mechanisms to help online stores achieve this goal. When an online store uses recommendations, online shoppers are shown products that are relevant to them so they can find the product they need easily and much faster. This ensures that the user has a pleasant online shopping experience, increasing the chance that a purchase will be made.
Retail Rocket added personalized product recommendations to the product page of  Sanitairwinkel.nl. The effectiveness of these recommendations was measured using A/B testing. For this test, website users were randomly split into three groups:
1.  The first group was shown similar products. These are alternative products, which have properties similar to the one currently selected which can help increase the proportion of visitors that find an item of interest to them.
2. The second group was shown personalized similar products, based on the user's interests (price, brand, category, text description, etc.) and website behavior (what they also viewed, what they ultimately ended up buying, etc.).
3. The third group was the control group. No recommendations were shown.
Higher conversion, higher average order value and more revenues through product recommendations
The A/B test showed the following results:
Conversion rate

Average order value

Revenue

Personalized similar products vs control group

      

+8.9%

+6.3%

+15.7%
The outcome of adding personalized product recommendations on Sanitairwinkel.nl was remarkable. The conversion rate among users who were shown personalized similar product recommendations was 8.9% higher than visitors who did not see any recommendations.
Besides this, the average order value grew by 6.3%, and the shop reached an impressive 15.7% revenue growth.
Over 78,000 unique users took part in the test with a statistical significance of 97.5%, which means that the findings are exceptionally reliable.
Conclusion
This case study proves that optimizing product pages using Retail Rockets' website personalization helps Sanitairwinkel.nl to increase its revenues. These results and the ease with which the recommendations can be implemented have convinced Sanitairwinkel.nl to strengthen its cooperation with Retail Rocket.
Comments from Sanitairwinkel
At Sanitairwinkel we are constantly looking for opportunities so we can improve the experience for the visitors on our websites. Retail Rocket offers us the possibility to personalise the display of products in a simple way. By performing a phased A / B testing we have insight into which blocks work and which ones don't work for us. In this way, Retail Rocket has demonstrated its added value.
Jaap Melchels, Online Marketeer at Sanitairwinkel
Questions?
Contact us and we will help you to answer any questions you might have.