Personalized shopping experience on Due-Home increases sales by 30%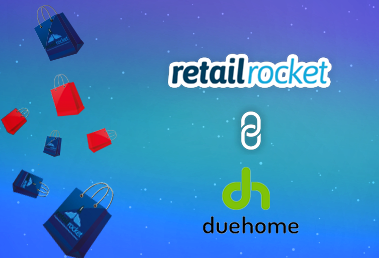 In most online stores, customers are constantly exposed to the same product offers and recommendations regardless of their individual tastes and preferences. One of the biggest challenges for online retailers is to personalize these recommendations.
Due-Home.com needed a solution that would allow them to stand out from the increasing online competition, to deliver each visitor a customized shopping experience and to increase online sales.
Due-Home implemented Retail Rocket's technology, which is as quick and easy to implement as Google Analytics. Product recommendations are dynamically delivered on different pages of its website and are updated in real-time, providing precisely targeted offer for each visitor so that the product they need is easy to find.
This all ensures that the visitor has a pleasant online shopping experience, increasing the probability that they will make a purchase. As a result, the main KPIs of the online store are achieved, such as a conversion increase, a higher average order value and improved customer retention.
About Due-Home
Due-Home.com has a history of more than 6 years in the decoration sector. Its catalog comprises more than 1,200 items of furniture for home and office, with a modern and contemporary style. Their online store receives more than 150,000 visits per month, according to Similarweb.
By using Retail Rocket's platform and real-time big data analysis, the online shop offers personalized recommendations in more than ten sections of its website. This guides the users towards the products that best suit them.
We reviewed the results of the personalized product recommendation blocks located in four of the most important sections on Due-Home.com from August 2017 until December 2017, as follows:
Homepage

Category page

Product page

404 error page
1. Homepage
The homepage is the shop window through which the users look for what they need. On average they only take three seconds to decide whether they want to shop on a website or leave so it is important that the first impression is a good one.
That is why Due-Home added two product recommendation blocks.  The first block is shown in two different scenarios:
When the website does not have any information related to the visitor, it shows the most popular products the online store has to offer.

When the website has information about the visitor and his preferences, he is shown personalized recommendations.
2. Category page
Due-Home added a product recommendations block on the category page to help the users explore their catalogue. When there is a profile of the user's history and interests available, it is used to personalize these recommendations. If not, this recommendation block takes into account the "wisdom of the crowd", displaying relevant products based on the preferences of other users with similar profiles and interests.
3. Product page
On the product page is where users decide whether or not to make a purchase. It is also used to highlight and recommend more products, eventually increasing the average order value.
Since Due-Home has such a broad range of products, two blocks of recommendations are shown. One of them presents similar products, which are alternative items and are the most likely to be bought by visitors who viewed current product but didn't buy it based on various collaborative and content filtering algorithms. The other block, positioned below the previous one, displays related products, which are complementary to the product currently being viewed.
4. 404 error page
A user encounters a 404 error page when the server can not find a particular resource, due to a mistyped URL address or an unexpected error.
Usually, this type of page leads to a dead end, but by adding personalized recommendations, it helps customers to continue browsing without interruptions.
Due-Home shows a personalized recommendations block based on the visitor's profile on the 404 error page, which encourage them to continue browsing the online shop.
Results
The implementation of the personalized recommendations gave the following results:
| | | | |
| --- | --- | --- | --- |
| | Revenue | Average order value | Orders including one or more recommended products |
| Changes after adding personalized recommendations | +30% | +14% | +31.7% |
After implementing Retail Rocket's product recommendations on Due-Home.com, the online shop's revenue boosted by 30%. More than 37% of the orders included one or more items that had been recommended by Retail Rocket and the average order value increased by 14%.
Conclusion
The power of personalization in eCommerce is nowadays more than proven. Retail Rocket's platform can help online stores to provide their users an exceptional shopping experience and to thrive in a competitive shopping environment.
Due-Home Comments:
"Retail Rocket has helped us increase our monthly revenues through cross-selling and upselling. In addition, Retail Rocket provides us with good follow up actions which helps us improve in our recommendation spaces, and that means that most of the time we do not have to worry about looking for new opportunities".

Jordi Ordóñez, Marketing Director of Due-Home
Questions?
Do you have any questions about this case? Please contact us.